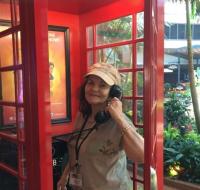 I am Rizo Saverio, born in Recife, Brazil. The idea of having something as wonderful as Pacific Radio-KPFK 90.7 FM, existing and flourishing and even celebrating 64 yrs is truly amazing. Back in the days when I was trying to figure out how to maneuver in the halls of academia, KPFK dazzled me with interviews, live music, theater, etc… Late at night, Alan Watts was always delighted and puzzled, talking of a gentle wisdom world where discerned thinking was pursued and desired. You could feel the keys to some ancient wisdom being passed on to you.

My Mom grew up on a farm in Northeast Brazil and my adoptive Father was an immigrant from Italy to Brazil. I am the first of my parents' lines to make it to college. The concept of media
without corporate power pushing its wishes on the public simply thrilled me from the first moment. It still does.

My classrooms at UCLA introduced me to the theories of change in society. KPFK gave me samples of how those changes intermingled, bumped into each other, fulminated, and further
brought on more challenges and changes. I was living in Sociology and Psychology. With Cesar Chaves and Dolores Huerta, I sang about grapes and lettuce …

I walked Hollywood Blvd with "Children of the Night", girls and boys who survived by prostituting themselves while living in a society that proclaimed to be "best in the world". I hosted Blasé Bompane and his group in my little apartment in Santa Monica. I sat with Carlos Castaneda and a small group and talked for hours about his book and the "brujerias" he learned.

When I made a big mistake and my boyfriend wanted nothing to do with the responsibility of parenting what might develop, I was grateful that I did not have to drop out of college and become the next poor woman without resources.

I am running currently because I want Pacifica-KPFK to continue, offering exceptional programming, to influence other naive young people like I was. Our community needs programs that touch our lives, and the problems we have, and are there to celebrate our victories against the forces that would crush us. Thank you for giving me a chance to continue my affair with KPFK.

I appreciate your vote of support to serve the Local Station Board.