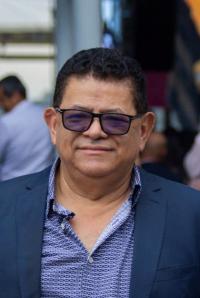 I want to break the traditional format and how portrayed the real issue. KPFK is the only way to break the media siege. I enjoy what I do as a programmer and always thinking what we can do to give better service to the community and help KPFK (the station) to be better for the people.

Angel Jaramillo
Staff Candidate from KPFK for 2023

Quiero romper con el formato tradicional y cómo se retrata el tema real.
KPFK es la única forma de frenar el cerco mediático. Disfruto lo que hago como programador y siempre pensando en qué podemos hacer para dar un mejor servicio a la comunidad y ayudar a KPFK (la estación) a ser o dar mejor programación para la gente.

Ángel Jaramillo
Candidato del personal de KPFK para 2023